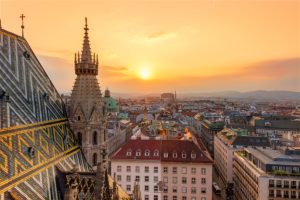 Hi Team,
there we are !!
I'm proud to communicate that our next President Club will be in Vienna on 28th Nov – 01st Dec 2019.
Is the best time to look back and retrace this really important year for TechneValue GmbH. All together we have reached new heights thanks to our daily work making our proposal the most innovative ever. I am proud of your work and what you are doing to make TechneValue GmbH a reality that helps our customers both through our products and technical or consulting services.
Although we are not "Accenture" … we strongly believe in our people, with Mauro and Massimiliano we've decided this year to spend a special week end in Vienna … a moment to meet us, to talk about our experiences, to have a short holidays … and why not … a moment to have fun !!
The event will be structured #3 days, the first business and the other two to have fun !!
Even-if this is our official corporate meeting, if you want to travel with a guest we have decided to offer to #1 guest for each TV employee (parent, partner, friend …) the accommodation (same room) and travel but please submit your details within Tuesday 3rd Sept in order to book the flight with a good rate.
In the coming weeks – with the aim to personally involve everyone – you will be contacted by our Daniela (daniela.manganaro@technevalue.com) who will organise the Business Game.
Thursday, November 28, 2019 
Time

Event

Afternoon

Travel

 organized by TechneValue

Late

Afternoon

Hotel Accommodation

20.00 – 20.30

Dinner
Friday, November 29, 2019 
Time

Event

08.15

Welcome

08.30

Corporate Speech

 – Vision & Strategy TechneValue – Pietro Catanese with the participation of Andrea Palmerini  (Guest Star – DigiTel Italia SpA General Manager)
 – IT Contact Center Practice (Genesys Partner) – Massimiliano Crisci
– Big Data & Advanced Analytics Practice (4Proodos Solution) – Mauro Odino
– CRM & ERP Practice (Salesforce.com Partner) – Giulia Rocchi
– CFO Time – Lucia Casanova

13.00

Lunch (only for TechneValue employees)

14.00

Business Game – Breakout Session

Atelier.1 coordinated by Pietro Catanese
Atelier.2 coordinated by Massimiliano Crisci
Atelier.3 coordinated by Mauro Odino
Atelier.4 coordinated by Giulia Rocchi
Atelier.5 coordinated by Daniela Manganaro

17.30

Business Game – Final Session


coordinated by Daniela Manganaro

20.30

Business Dinner (only for TechneValue employees) & Award Ceremony
Saturday, November 30, 2019 
Time

Event

All day

 Free time

19.30

TechneValue Gala Dinner

with employee guest
Sunday, December 01, 2019 
Time

Event

All day

Hotel checkout
Free time

afternoon

Travel organised by TechneValue
Even-if this is our official corporate meeting, if you want to travel with a guest we have decided to offer to #1 guest for each TV employee  (parent, partner, friend …) the accommodation (same room) and travel but please fill out within September 02nd