Digitalize your Customer eXperience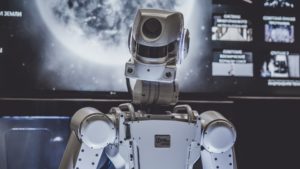 The huge amounts of available data will trigger new needs for data analysis and the creation of readily-usable information, and will stimulate new business ideas for the deployment of innovative services and the development of specific applications. New business value creation, driven by new or higher revenue, faster go-to-market, enhanced services, reduced costs, increased productivity or competitiveness, impacting R&D, production and operations, sales and marketing, customer support, financial and administrative functions.
.
Big Data and AI/Robotics technologies are transforming all industries and the way companies across all vertical markets can operate, that's the reason why the possible use cases of Big Data and AI/Robotics cover a broad range of functionalities. Not generic use cases but the consolidate approach is to identify for each enterprise the right specific use case that could spur a set of new business opportunities. Beyond technology, advanced analytic capabilities are required in order to extract value from data, so more companies will look to outsource analytic services. Ad Hoc professional services based on Big Data technology stack are the frontier tools that enable a scientific deployment of the  whole set of dark data that every enterprise has but never uses at its maximum potential.
Your perfect partner!
TechneValue Group is a leading Data Analytics & AI/Robotics partner for our customers. Our capabilities span among various technical aspects since we have expertise on all major and innovative technologies and, on regular basis, we add new "capabilities". Our operational capabilities is enabling us to work on medium / large projects about Big Data management and advanced analysis.
Our know-how is your know-how
Our teams boast long-standing experience in the sector, we love challenges and put attention to every detail, that's why we are your perfect data and analytics partner!
Hadoop
Apache Hadoop is a framework that allows for the distributed processing of large data sets across clusters of computers using simple programming models.
Bot Solutions
Bots are a new way to interact with users using artificial intelligence to converse in human terms, usually through a lightweight messaging interface or a voice interface.
AI Landscape
AI tries to mirror human intellect to solve problems. Today, there are many examples of where AI is able to use its ability to learn and apply the knowledge learnt.
Data Analytics
The data & analytics comprises many disciplines and components, a right approach helps to will point the best solutions that dive deeper into enterprise data
Do you want to leverage your enterprise data to make it an important economic asset for the business delivering Intelligent decisions or Digital Services to increase in productivity and greater customer satisfaction?
Why don't you meet our AI/ Robotics and BigData Experts and start to analyse your needs with us?