Improve Your Customer Experience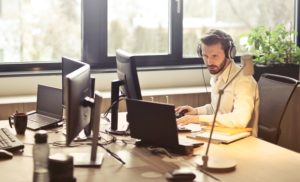 Contact Center as a Service (CCaaS) is a cloud-based customer experience solution that allows companies to utilize a contact center provider's software. A CCaaS model allows businesses to purchase only the technology they need.
CCaaS is an ideal option for many contact centers, offering quick scalability as operational needs change. By providing the flexibility to pay for only the technology needed, investment is low and costs are significantly reduced, while capabilities to better serve customers are expanded.
Your perfect partner!
TechneValue Group is Genesys Silver Partner, and with its Professional Services Team provides tailor-made consulting, integration, management and support solutions for large and medium enterprises. We offer a variety of customized technical consulting services aimed at large and medium companies operating in all sectors and at different complexity levels in the EU and Switzerland. Our Call Center Engineers work closely with clients to develop the best possible applications to support their business. The results obtained with our approach are able to meet the ever-changing challenges of your industry and make TechneValue Group the perfect partner to implement your Genesys project end to end. To deliver the outcomes that our clients need, we're continually investing in training in areas that matter. That's why we're delighted to be considered a strategic partner with unique know-how and experience — helping our customers strengthen the relationships with their clientele through Genesys. Our Genesys Consulting Practice is entrusted to highly-qualified advisors with a solid history of collaborations with industry leaders. The combination of technical and business skills makes TechneValue the perfect partner to implement your Genesys project end to end.
Our know-how is your know-how
Our teams boast long-standing experience in the sector, we love challenges and put attention to every detail, that's why we are your perfect Genesys partner!
Genesys Cloud CX
Unify customer experiences across phone, email, chat, text and social channels. Keep agents productive and engaged, no matter where they are. The Genesys Cloud CX™ platform does it all.
Genesys Multicloud CX
The bigger the company, the more complex its CX ecosystem becomes. Leading global brands choose Genesys Multicloud CX™ contact center software to execute ideal customer journeys.
Genesys
DX
Bring human intuition to every digital interaction with Genesys DX™️. This AI-powered platform makes it quick to design and deliver self-service experiences that wow your customers.
Genesys Pointillist
Monitor and orchestrate customer journeys with the Pointillist Journey Management Platform™ to optimize CX and improve digital containment and contact center performance.
Do you need to manage your Contact Center infrastructure and/or bring your infrastructure up to date?
Why don't you meet our Contact Center Professional Services Managers and start to analyse your needs with us?